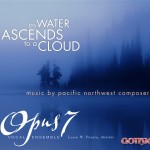 Purchase online!
World-premiere recordings from the innovative choral landscape of the Pacific Northwest!
Choral music in the Pacific Northwest has been influenced by numerous cultural and choral traditions, including Scandinavian, German, Catholic, Lutheran, and Anglican. Various aspects of the Northwest itself have influenced choral performance and composition in the region, including its abundant beauty, the cloudy and rainy landscapes of the Pacific Coast areas, the cultures of the native populations, and its place on the Pacific Rim in the relatively isolated northern corner of the west coast of the United States. Because of its proximity to Asia and the influence of Asian culture, Northwest composers have also looked to the other side of the Pacific and beyond for inspiration, sometimes eschewing the cultural and social influences of America's own east coast.
While there are numerous esteemed and long-established choral ensembles in the Pacific Northwest, the early 1990s saw a veritable explosion of new groups, particularly in Portland, Seattle, and Vancouver, B.C. Accompanying the profusion of new choral ensembles was a parallel increase in the number of composers writing works for them.
Our latest CD is an anthology of choral works by Pacific Northwest composers that represents the diverse cultural, social, and geographical influences of the region. Some of the composers are transplants from elsewhere; others are native-born. And while many of the works were composed recently, some are of older vintage. Nearly half of the works on this CD were composed especially for Opus 7, and many of the works are world-premiere recordings.
| | |
| --- | --- |
| William Bergsma | Riddle Me This (1957) |
| | Answer: The Snow |
| | Answer: The Egg |
| | Answer: A Cow |
| John Muehleisen | Snow (The King's Trumpeter) (2000) |
| |    Vince Green, trumpet |
| Bern Herbolsheimer | As Water Ascends to a Cloud (2005) |
| |    Lisa Pontén, soprano |
| arr. Ron Jeffers | Workin' for the Dawn of Peace (1987) |
| Lorri Kristin Froggét | Youth gone, and beauty (2006) |
| |    Lisa Pontén, soprano |
| Stephen Thomas Cavit | Dareeché (2007) |
| |    Lisa Pontén, soprano |
| |    Paige Smith, cello |
| |    Juliet Stratton, harp |
| |    Christina Siemens, piano |
| Roupen Shakarian | Yangshuo Quay (2004) |
| |    Anthony Taylor, clarinet |
| David Asplin | Psalm (from the Healing of the Nations) (1996) |
| Alan Hovhaness | The Lord's Prayer (1965) |
| David Asplin | Open Our Eyes (2006) |
| Joan Szymko | Ubi Caritas (1996) |
| |    Lisa Pontén, soprano |
| Bern Herbolsheimer | Serenade (from Five Dainties from Ralph Roister Doister) (1990) |
| | Anthony Taylor, clarinet |
| arr. Robert Scandrett | She's Like the Swallow (1999) |
| arr. Bern Herbolsheimer | Red River Valley (1988) |
| arr. Bern Herbolsheimer | Lovely William (1989) |
| |    Maria Mannisto, soprano |
| arr. Bern Herbolsheimer | Ratcoon (1989) |
| John Muehleisen | Eat Your Vegetables — Set One (2010) |
| |    Kevin Morton, clarinet |
| | Bounty |
| | Aversion to Carrots |
| | RAH! |