Saturday, March 14th, 2015 @ 8:00 pm
St. James Cathedral
804 Ninth Ave, Seattle
Suggested donation $18.00 in advance, $20 at the door for adults; students and seniors pay as able.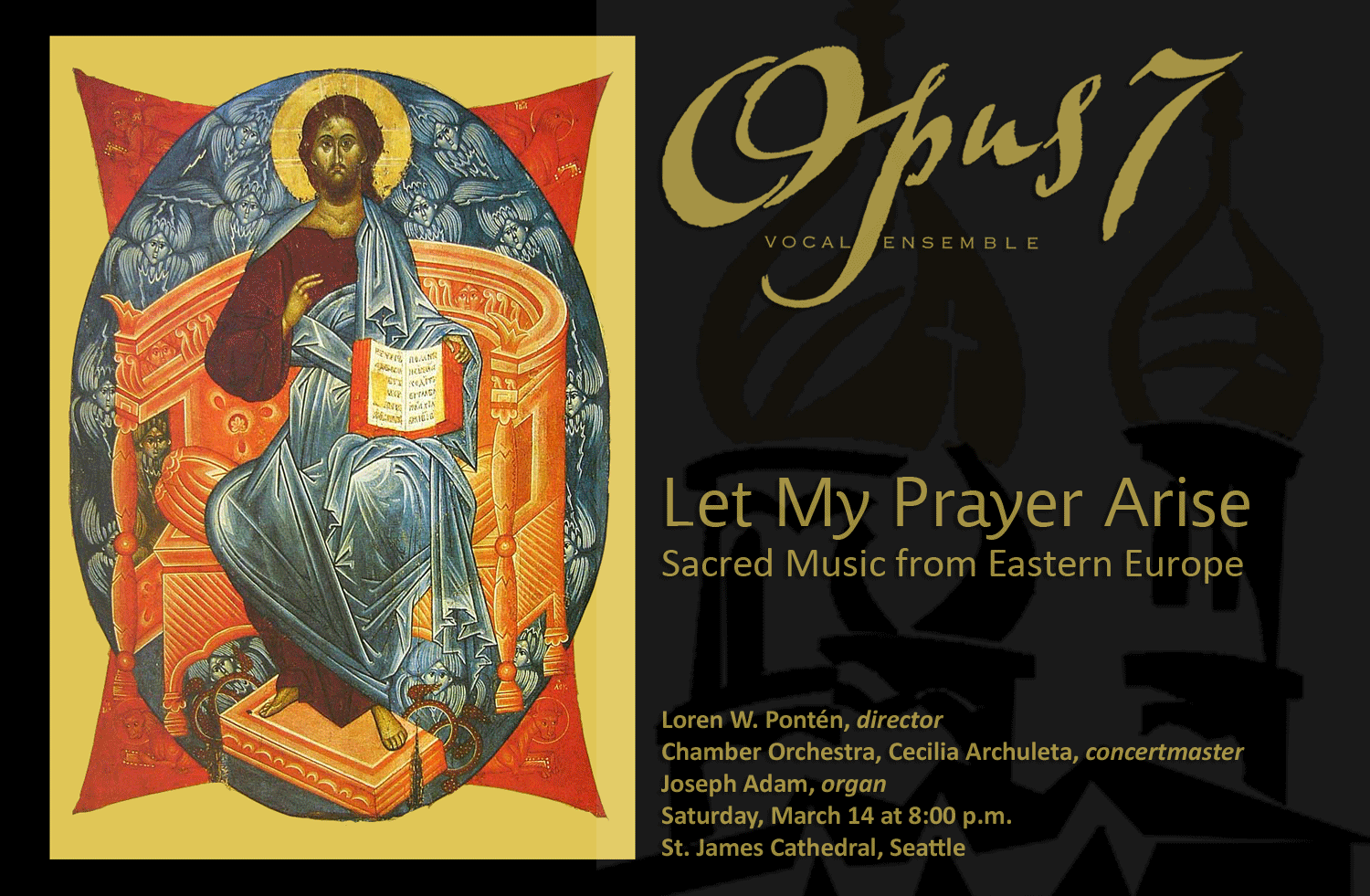 From the great Romantic choral works of Sergei Rachmaninoff to contemporary pieces by Baltic composers Arvo Part, Peteris Vasks and Arturs Maskats, we celebrate a rich choral tradition of prayerful and inspirational music that unites people through faith.
The program will include movements from Rachmaninoff's "All Night Vigil", celebrating the 100th anniversary of the premiere of this masterpiece. Other Russian composers include Borniansky, Grechaninov, Sviridov and Schnittke, as well as Ukrainian composers David Nowakowsky and Mykola Leontovych, who was the first to set an Orthodox liturgy in the modern Ukrainian language.
The 48-voice choir will be joined by a string orchestra and Cathedral Organist, Joseph Adam.  Please join us in the splendid acoustic space of St. James Cathedral for a powerful choral experience.
Reserved seating is available by advance donation. Suggested donation for adults is $20 in advance, $22 at the door; students and seniors pay as able.
For more information, please visit our Facebook page, or call 206-782-2899.
Opus 7 has been a resident ensemble at St. James Cathedral since 1994 and is actively involved in music advocacy and outreach, including commissioning new choral works; performing works by local and regional composers; establishing performing alliances with other instrumental, vocal, and choral performers in the Puget Sound region; and encouraging the composition of choral works by student composers through its unique Student Choral Composition Awards Program.
Opus 7's March 14th Concert Program
Sergei Rachmaninoff – "Come, Let Us Worship" from Vespers
Dmitry Bortniansky – Let My Prayer Arise
Peteris Vasks – Pater Noster
Rachmaninoff – "Blessed is the Man" from Vespers
Georgij Sviridov – O Sacred Love (Liubóv sviatáya)
David Nowakowsky – Psalm 24 (L'Adonai Haaretz Um'loah)
Arturs Maskats – Lacrimosa
Mykola Leontovych – Smert' (Death)
Alexander Gretchaninoff – Do Not Lament Me, O Mother
Alfred Schnittke – No.1 Bogoroditse Devo (Rejoice, O Virgin) from Three Sacred Hymns
Schnittke – No.2 Ghospodi Iisuse (Lord Jesus, Son of God) from Three Sacred Hymns
Arvo Pärt – Beatitudes