Saturday, October 15th, 2016 @ 8:00 pm
University Congregational United Church of Christ
4515 16th Ave Ne, Seattle, WA 98105
$20 in advance, $24 at the door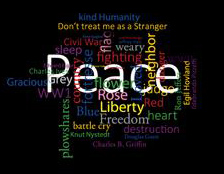 Due to extreme weather conditions that are forecast for tomorrow night, our October 15th concert is POSTPONED.
PLEASE JOIN US ON Saturday, January 21, 2017, at University Congregational Church for PEACE IN OUR TIME.
We look forward to singing this wonderful concert for you on Saturday, January 21, 2017, on the PRESIDENTIAL INAUGURATION weekend!
Opus 7's opening concert of our 25th-Anniversary Concert Season explores poetic and musical expressions of conflict, peace, and hope. The concert includes music by composers from the Civil War, WWI (performed in this concert as part of the WWI Centennial Commemoration), and WWII – focusing on war and the resulting chaos of military conflict, and honoring those heroic men and valiant women who served and sacrificed for their country.
We'll perform music by Scandinavian composers Egil Hovland and Knut Nystedt, mid 20th-century Italian Ildebrando Pizzetti, contemporary Americans Charles B. Griffin, Jeffrey Van and David Asplin, as well as Johannes Brahms, C. H. H. Parry, and Edward Elgar.
A major work on the program is by Latvian composer Pēteris Vasks. His dramatic piece, "The Tomtit's Message" uses the folk-inspired legend of the chickadee as a metaphor for Latvian independence. Vasks utilizes all manner of experimental vocal techniques as well as traditional harmony to tell the story of Latvian resistance to Soviet oppression during the late 20th-century.
Other texts include poetry by Walt Whitman, biblical references from Luke and Isaiah, inspirational writing from Cardinal John Henry Newman, and this stunning excerpt from Muslim poet, Rumi:
"Don't treat me as a stranger.
My house is close to yours.
I may look different, but my heart is good."
It would be hard to find a more applicable text to address the social and political ills of our modern society.
With guest performers:
Stella Kosim, guitar
Karen Sunmark, percussion
Roger Nelson, piano