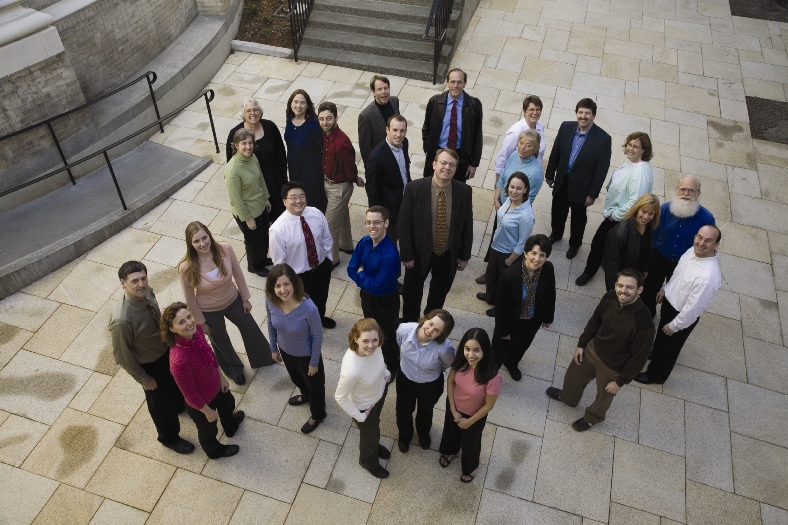 Since its inception, Opus 7 Vocal Ensemble has established a reputation for continually featuring a diverse range of new and rarely performed works, along with time-honored classics of choral literature. Formed in 1992 as a professional choral group by founding director Loren Pontén, Opus 7 specializes in 19th- through 21st-century a cappella choral music. As a resident ensemble of St. James Cathedral in Seattle, Washington since 1994, Opus 7 is firmly dedicated to performing the works of local and regional composers, regularly commissioning new choral compositions. In addition, since 2000 Opus 7 has fostered new talent in the field of choral music through their unique Student Choral Composition Awards Program.
Throughout its 15 years, Opus 7 has increasingly grown in stature through its internationally acclaimed CDs and in the past several years has been recognized as one of the nation's finest and most innovative choral ensembles. Opus 7's contribution to the expansion of the international choral repertoire and its tireless dedication to the commissioning and performance of new works has been recognized nationally by ASCAP (American Society of Composers, Authors and Publishers) and Chorus America. In June of 2006, Opus 7 received the prestigious Award for Adventurous Programming for the third consecutive time, having also won in 2002 and 2004. Opus 7 is honored to be the first in the history of this award to have won three consecutive awards.
Amongst other distinctions, Opus 7 has been privileged to host esteemed American choral conductor Dale Warland in 2001 as guest conductor for the opening concert of its 10th-Anniversary Season and again in May of 2005 for their "Cathedral Classics" concert. They have also hosted New Zealand's finest choral conductor Karen Grylls, Philharmonia Northwest's Roupen Shakarian, and Seattle choral legend Dr. Robert Scandrett.  They have been a guest performing ensemble for the American Choral Directors Association and was featured at the American Guild of Organists National Conference in Seattle in 2000, performing with American choral legend Alice Parker.
The group has also garnered local and national acclaim for its three CD releases: O Rising Dawn, From Captivity to the Holy City, and their third CD, Let us Sing Sweet Songs, a world-premiere recording of music by Northwest composer Bern Herbolsheimer.
Opus 7's program is musically exciting, interestingly riveting and totally satisfying. Thank you!
— CD purchaser, March, 2004
You made a dream come true for me, and, I imagine, all the other composers on the program as well! Your performance was so luminous, reverent, and warm... The sculpting of the phrases was so beautiful... What a pleasure!
— Sean MacLean, Radio Host & Producer, 98.1 Classical King FM
Northwest Focus
, October, 2014
Opus 7 is one of the reasons some might say Seattle is in a golden age of choral singing.
Opus 7 brings the highest level of artistry to an eclectic mix of contemporary compositions.
the group's sound was glorious, and its intonation well-nigh impeccable